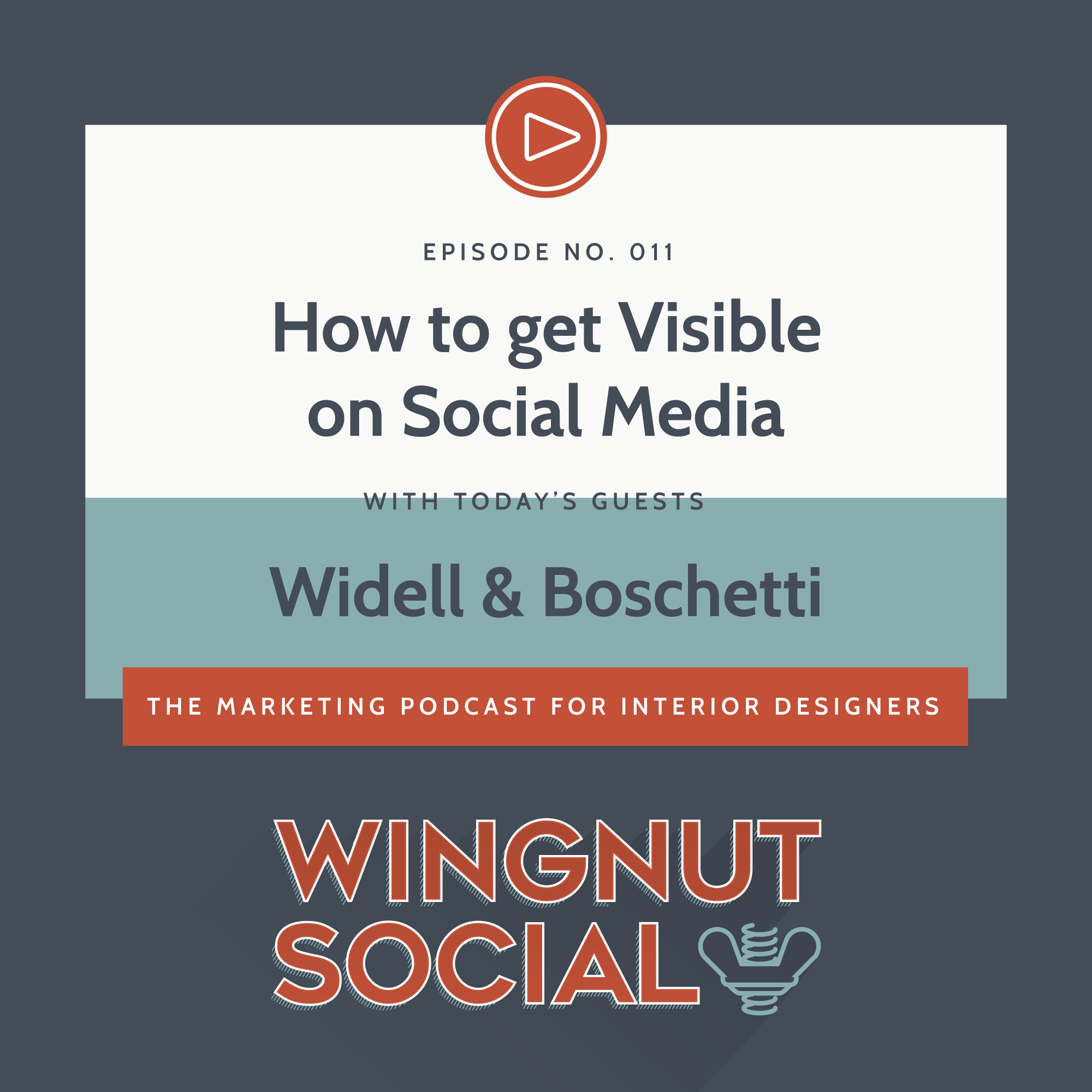 When Darla first met Barette Widell and Christina Boschetti, they were on a panel where the audience was all interior designers, who tend to dress a certain way and be very put together. But there were Widell and Boschetti, on the panel wearing baseball caps adorned with pom-poms. They immediately stood out from the crowd, and one could even say they are honorary Wingnuts.
Both Christina and Barette join Darla and Natalie for today's episode, talking about the time commitment required to make Instagram work for your business, and how authenticity has allowed them to rise above the ranks. Social media has definitely been their best tool to showcase their work and to spread the word. W + B gets most of their projects not only from word of mouth, but Instagram and Houzz. Barette is in charge of Instagram and pushes the stories, and as they say, it's like they already have their own show. All of their clients (including potentials) can watch in real time what is going on in their family, "social" and of course daily non-routines of their work life.
What You'll Hear On This Episode of Wingnut Social
[4:05] Why were Barette and Christina wearing pom-pom hats?
[7:40] How W+B built business relationships through Instagram
[8:38] The early days of their social media strategy
[11:55] Be sure to give proper credit if sharing someone else's work
[15:03] How being relatable on Instagram has paid off for W+B
[16:43] Why there aren't "mistakes" on social media, just learning processes
[19:00] How they use Instagram to sell products
[23:33] What up wingnut?
[28:05] Darla and Natalie's takeaways
Connect with Widell + Boschetti
Resources & People Mentioned
Instagram has a legit ROI for interior designers
That panel mentioned above was a gamechanger for Widell and Boschetti, and they landed that gig thanks to their prominence on Instagram. The pom-pom hats, the authentic, unpretentious way they go about things, that's all part of who they are and of course what their brand is. And as they say on this episode, there's a domino effect to social media.
Just like in Hollywood, someone who looks like they're so busy and doing so much work, everyone is going to want a piece of them. Which is why being consistent on Instagram is so important: It projects that you're in demand.
How to use social media if you don't have an established portfolio
One of the things Barette and Christina said this episode that could be so helpful for designers just getting started: Don't be afraid to share other people's work to signal what sort of design you like, or what you're going for. It's a good way to network on social media, and it lets you show off your tastes and what you're aspiring to, as well.
But a key component to sharing others' work is to make sure you credit and tag them. It's important to give proper credit, in case the post goes viral, and aside from being just good manners, it's a chance to support other designers. Social media is full of accounts that repurpose without proper tagging. Don't be that guy.
Connect With Darla & Wingnut Social
Subscribe to The Wingnut Social Podcast on iTunes, Google Podcasts, or TuneIn