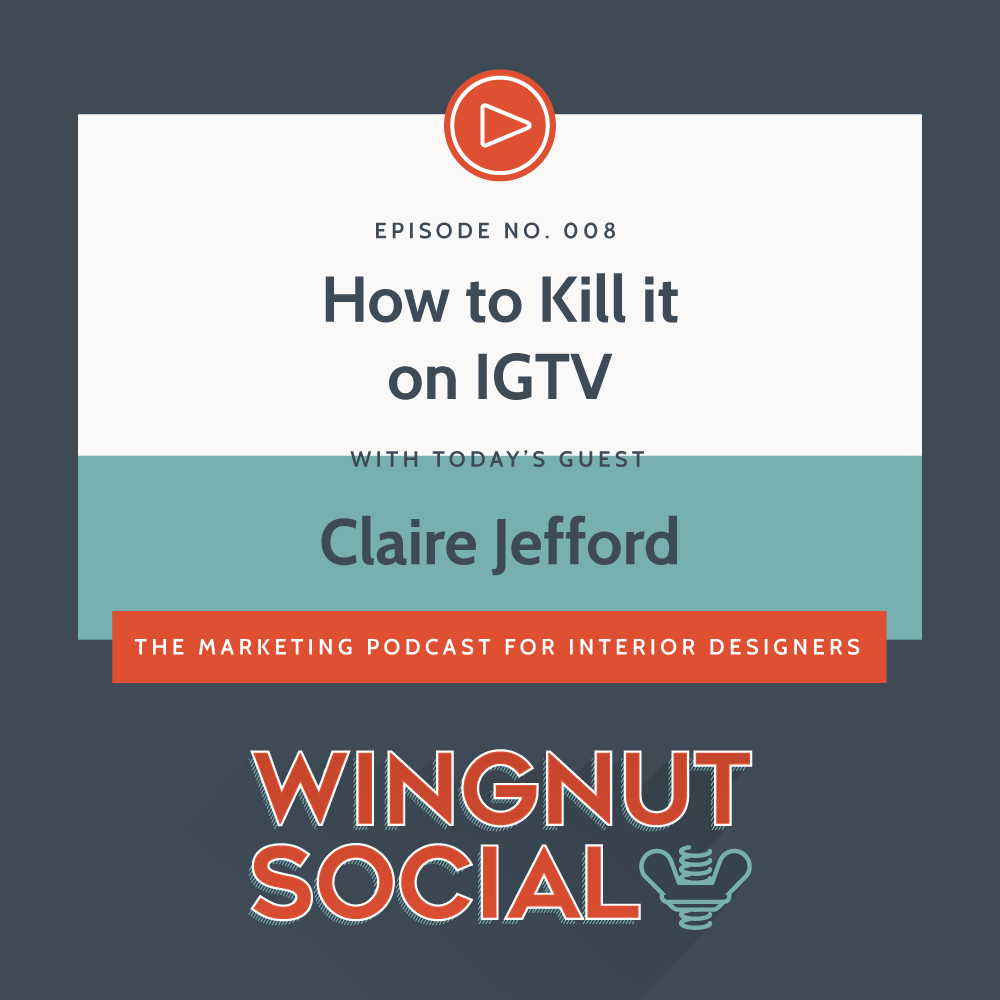 There are lots of options when it comes to promoting or building a community around your Interior Design Consulting Business. But one of the newest and best ways is through broadcasting short videos via IGTV (InstagramTV). One designer who is doing amazing things on IGTV is Claire Jefford.
Claire owns and runs her own award-winning Interior Decorating firm and is also an Interior Design Business Coach. She is passionate about marketing, creating videos, and having organized processes to fuel her business success. One of the greatest things about her is her authenticity: she openly shares decorating tips, design advice, and proven strategies for running a business on her IGTV and YouTube channels for anyone to learn from.
In this conversation, Claire shares her IGTV story, explains why anyone can get started (and why nobody has an excuse not to), and walks through IGTV best-practices and a whole lot more.
What You'll Hear On This Episode of Wingnut Social
[0:45] Who is Claire Jefford, and why does she record video with no pants?
[5:01] What IS IGTV and why does Claire know so much about it?
[5:59] Creating an IGTV channel is not all that hard
[8:28] BEWARE the difference in aspect ratio: you're going vertical
[9:30] How the geniuses at Instagram made us post fresh content
[14:37] The differences in Claire's strategy for IGTV vs YouTube
[20:35} Are Instagram Stories and IGTV redundant?
[23:40] Do lighting and audio matter on IGTV?
[26:20] Mistakes Claire has made that have taught her how to do it right!
Connect with Claire Jefford
Resources & People Mentioned
Creating engaging video content has never been easier
IGTV is changing the way creators are able to share their expertise and engage with those who are interested in the topics they speak about. Claire Jefford knows it to be true from her own experience. Before IGTV, her primary experience with video has been on YouTube, but she's found that IGTV enables her to provide content and interact with her audience in ways she has never been able to do on YouTube.
As an interior design consultant, Claire shares more than just her expertise relating to color and design, she also teaches other designers how to run their Interior Design Consultation businesses more efficiently, find and engage with clients, and make the most of every opportunity. One way she's doing it these days (with great results) is through IGTV. You can hear what she's doing and how she's doing it on this episode of Wingnut Social.
You don't need expensive equipment or a professional appearance for IGTV
The Interior Design Consulting industry does have a professional look to it - absolutely. We specialize in making things beautiful. But don't let that mindset convince you that you've got to invest lots of money into starting an IGTV channel.
You don't.
In this conversation with Darla, Claire explains how easy it is to set up your own IGTV account, the kind of equipment you need to do it well (it can cost less than $25), and why she sometimes broadcasts without putting on makeup first, and even on one occasion - without her pants. Claire is an engaging and funny lady, so be sure you take the time to listen.
Connect With Darla & Wingnut Social
Subscribe to The Wingnut Social Podcast on iTunes, Google Play, or Spotify