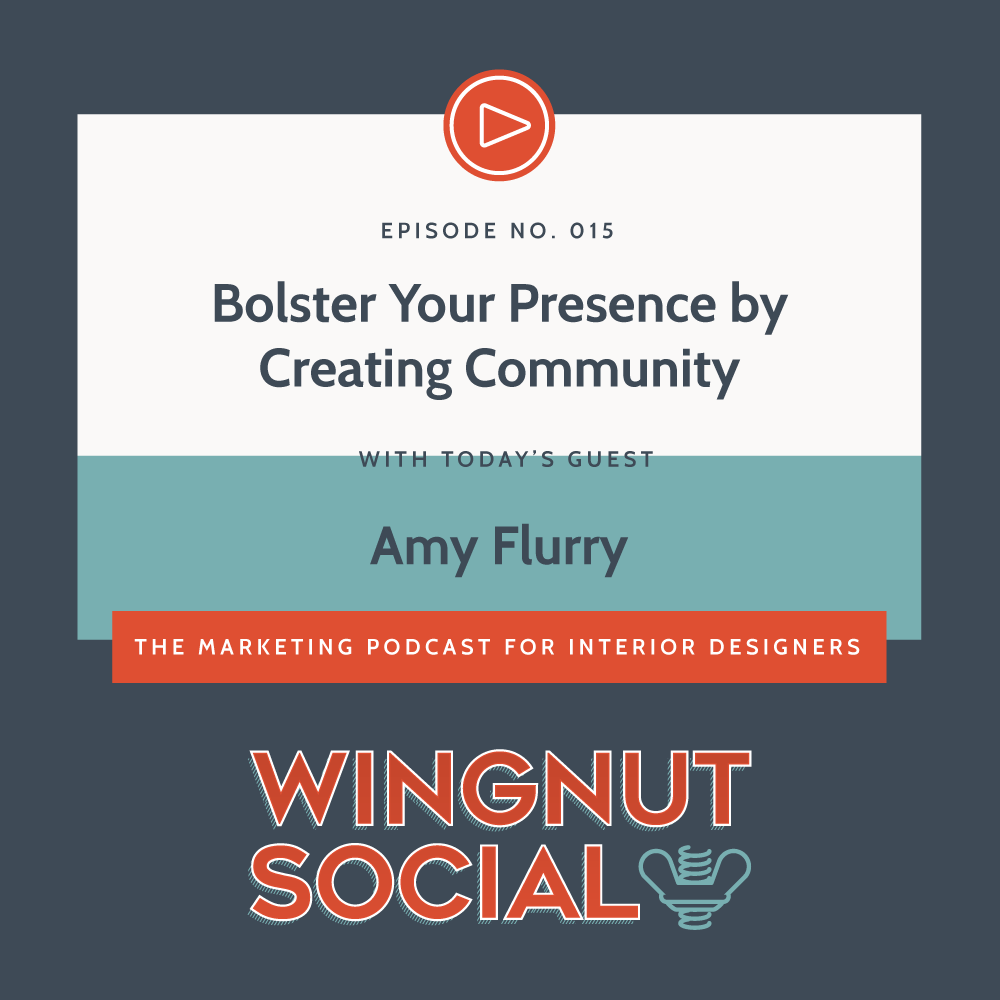 It's easy to feel like we live in two different worlds these days, one online and one in real life. And so interior designers often craft two separate marketing and networking strategies, one for each. But that doesn't have to be the case. Just because you're working to develop your social media presence doesn't mean your real-life connections don't play a role. Today we're talking about how creating community with real people in real, high-definition life can help you build your online presence as well.
That's because today we're talking with Amy Flurry, author of Recipe for Press and Recipe for Press: Design Edition, and a leading expert in how interior designers can get more press for their work. Amy Flurry is an editor and contributor to some of the biggest magazines on the newsstand (Lucky, Country Living, Condé Nast Traveler, InStyle, Better Homes & Gardens). Her book, Recipe for Press, has been called "the small business blueprint for DIY publicity," packed with good, no-nonsense advice on how to get your story or product onto the pages of influential publications. Amy's lectures and workshops serve to further educate entrepreneurs on how to refine their message, engage media and create relationships with editors and bloggers, including powerful examples from across industries and around the country, plus her own art company.
What You'll Hear On This Episode of Wingnut Social
[4:09] How to get started using the power of community
[6:38] Where Amy got the idea for this approach
[9:10] How to make Amy's strategy work for you
[16:00] Offer value to those who attend your events
[19:22] It doesn't have to be a huge event
[28:30] Whut up, Wingnut?
[30:58] Natalie and Darla's takeaways
Connect with Amy Flurry
Resources & People Mentioned
Small-batch gatherings, big-picture strategy
Amy's book was initially a total DIY project. She wrote it, produced it and launched it herself. And she booked her own speaking engagements. But instead of trying to land large auditoriums, she started putting together gatherings with other interior designers for the book. The events then become about more than just the book, Amy puts on her editor's cap and thinks about how the events can produce content that all of the attendees can take and share and use for themselves.
When Amy throws an event, she invites other designers, or people who enjoy design, who might be interested in what she has to learn. But she also invites local magazine editors who might be interested in meeting those designers, and she will share photos from the event and encourage others to do so as well. And so the idea is that the event happens in one, real-life place, but has many other "tentacles" as she says, that can help a variety of people and be used online.
It's about creating community, not competition
When Amy first started putting together her small events, she realized quickly that she wanted to invite people she didn't know, instead of default to the people already in her contacts list. And she invited a designer from Nashville who came and was so excited by it, she emailed the group afterward with a recap of all the takeaways, and then invited Amy to Nashville to do a similar event in her town. That designer then used that gathering that she threw to take pictures of her home, which she then used in a myriad of ways, including landing an article in HGTV Magazine.
Amy says that while designers may have concerns about their competition, the truth is there's enough work for everyone, and creating community can help foster learning and networking that lead to amazing opportunities. You want to make sure if you're throwing events for other designers, you're offering something of value for them. Otherwise, as Amy says, "it'd be really weird."
Connect With Darla & Wingnut Social
Subscribe to The Wingnut Social Podcast on iTunes, Google Podcasts, or TuneIn