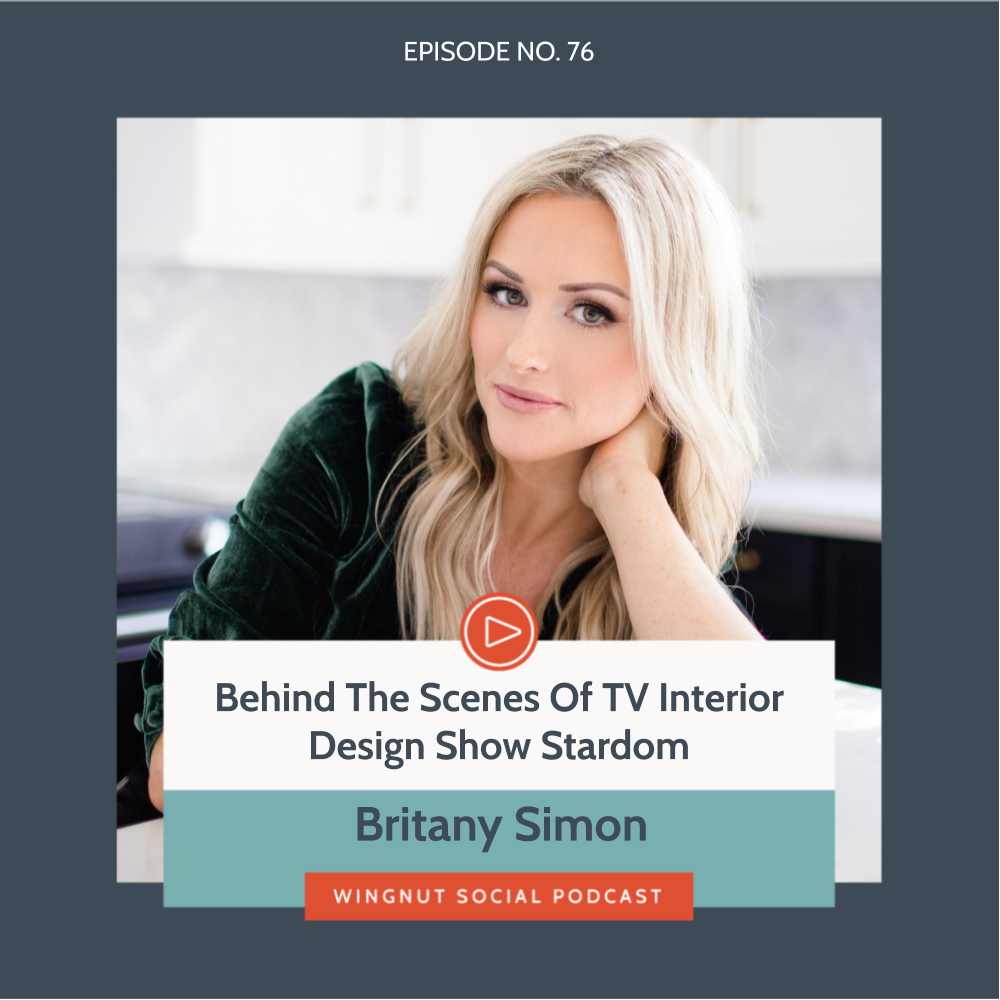 We've all seen and been enthralled with what happens on those TV Interior Design shows. There are so many great ones to choose from. And if we will be honest, every one of us who works in the design world has wondered what it would be like to star on one of those shows. Well, fellow wingnuts, wonder no more!
This episode is a delightful conversation with Britany Simon - star of several TV Interior Design shows. Darla and Natalie talk with her about the behind the scenes world of those productions to find out whether it's as glamorous as it seems and what benefits come to a designer who gets that kind of limelight. Britany also gives her best advice for anyone who wants to pursue the same types of opportunities. 
In her characteristic way, Britany gives us the unvarnished truth. Be sure you listen!
What You'll Hear On This Episode of Wingnut Social
[1:20] The new Tequila diet isn't really working in spite of internet promises
[2:30] Brittany Simon's rise into the media limelight
[5:30] The circumstances that led Brittany to television
[10:04] The story behind TV design - how it really works
[16:38] Why Britany first decided to try out for a TV design show
[19:00] The opportunities that have come from being on TV as a designer
[21:01] Britany's advice for those interested in getting on a TV design show
[22:59] The marketing that Britany does for her shows and brand
[27:23] Britany's learning curve for becoming comfortable on camera
[29:24] The What Up Wingut round
Connect with Britany Simon
Resources & People Mentioned
So you want to star on an Interior Design TV show, do you?
Britany first put her name in to be considered for "The Design Star," a show from HGTV. She didn't know if she had a chance of making the cut because she'd never done any work on camera or in front of an audience, but she figured it was worth a try. She and her husband drove to Las Vegas so she could audition for the show and the rest is history. But what she discovered behind the scenes was a world of extremely hard work. She jokingly says she often ended her production days in the fetal position.
The kind of things she had to deal with were unexpected. For example, she was assigned a design assistant who was not at all ready for the kind of work involved and who didn't know how to go about sourcing the items she would need. So Britany had to take that on herself. She also had to work tirelessly on the things the show's producers assigned to her to meet the deadlines for the show - including a number of DIY projects. Listen to hear how the perceived glamor of being on the show turned out to be not so glamorous.
What is the return on staring on your own design TV show?
One of the things Darla was interested in finding out was how Britany's many TV shows have benefitted her design business. After all, Joanna Gaines seems to have done pretty well from her TV opportunities. 
What comes to light in this conversation is that Britany is a designer at heart and always wants to have her hands in the actual process, so to grow her business rapidly and in a way that puts her in more of a management role was not attractive to her - at all.
So thankfully, that's not what happened. While it's true that Britany has had many and varied offers as a result of her television stardom, she's been able to remain in her sweet spot of designing. She's been the choice of many clients simply because they saw her work on TV and took it upon themselves to track her down so they could have her design their homes. That's the kind of exposure money can't buy and Britany has made the most of it.
We hope you'll listen to this episode to get to know Britany. She's down to earth, transparent, and a joy to talk with. You'll find yourself feeling happy that she's been the one to experience the kind of success she has - even if you secretly envy her - like we do. 
Connect With Darla & Wingnut Social
Subscribe to The Wingnut Social Podcast on iTunes, Google Podcasts, or TuneIn
Audio Production and Show notes by
PODCAST FAST TRACK
https://www.podcastfasttrack.com
Clean and compress CSS files for an optimized website. Try the free online tool by HTML Cleaner.